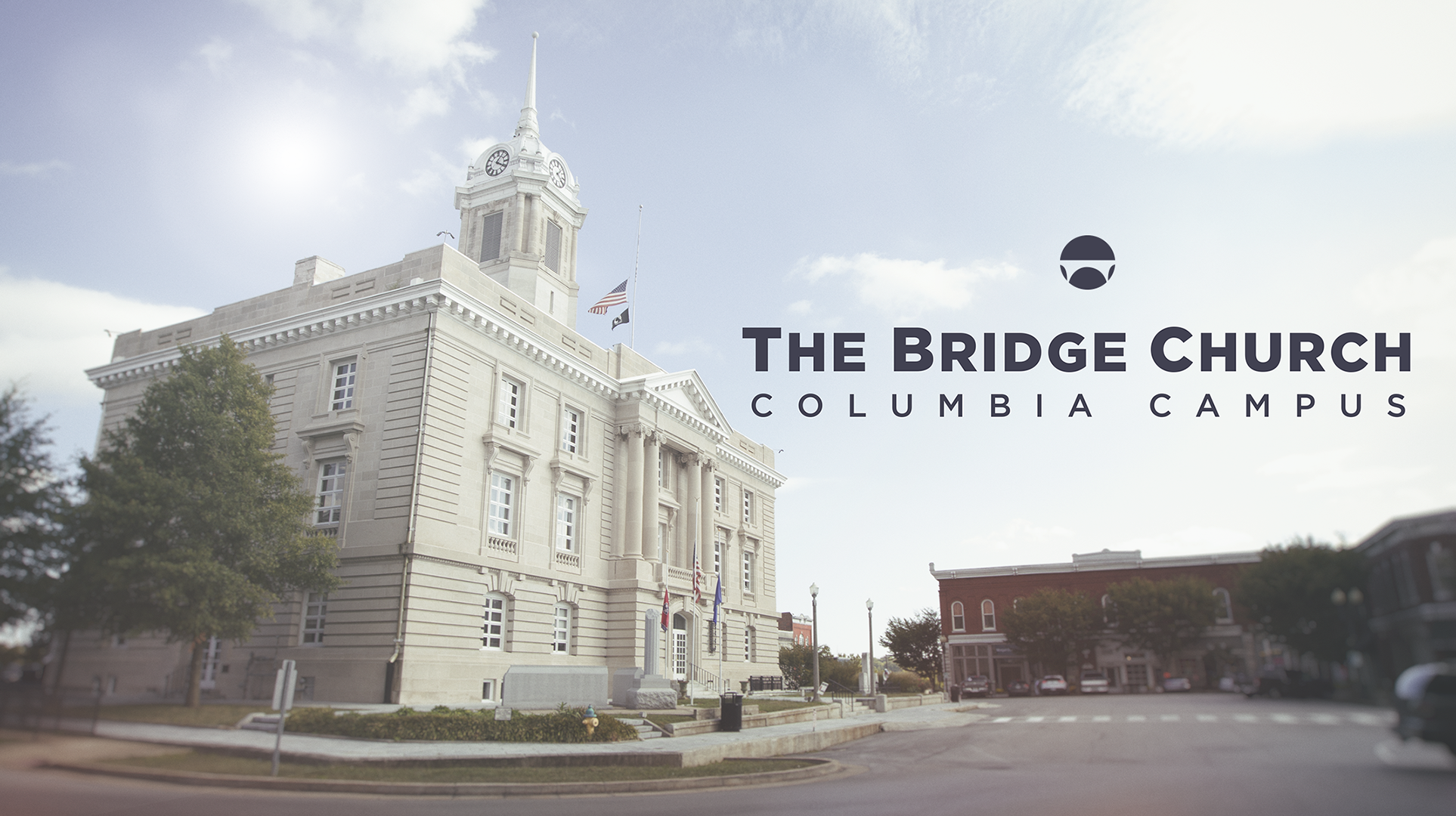 LEADERSHIP UPDATE: Columbia Campus Launch
After years of prayer and seeking guidance from the Lord, words cannot express the joy our leadership has in announcing our plans to plant our first church.
Over the last couple years, as the number of people in our church from the Columbia, TN area has swelled to now over 300, our leadership has developed a firm and growing conviction that God is calling us to plant The Bridge Church, Columbia in the near future. That's happening and during this year our leadership has been tirelessly working as we prepare to launch a Columbia campus. Because we believe clarity produces unity, we're excited to roll out the first set of updates on where we're headed as we plant in Columbia...
OVERVIEW & WHAT'S HAPPENING
Here's a quick overview of some details about the campus launch...
// The Campus. The Bridge will be planting a campus in Columbia, TN within the next 11-17 months (more on timeline below). For those unfamiliar with multi-site terminology, we're not planting something like The Bridge in Columbia and we're not moving The Bridge to Columbia. We're planting another campus of our church in Columbia, making us one church in two locations so we can better reach and minister to Columbia.
// The Campus Pastor. We need a Spirit-filled, big-thinking, bet-the-farm, will-not-be-denied gospel man with a heart broken for Christ in Columbia to pastor the Columbia campus. Because he will need time to develop relationships in the body, develop the >300 person plant team, and become fluent in the culture of The Bridge, we're beginning the hiring process for the Columbia Campus Pastor immediately. That person will come on staff ASAP to have an 8-10 month runway to learn and prepare.
// The 300. Although we're beginning to think this may be too low, our goal is to launch the campus with at least 300 people from Day 1. We're passionate about this for two reasons: 1) We have ~320 people in our church body who live in Columbia and the surrounding towns who are already positioned to be city-missionaries, but 2) studies show that planting with 300 people is a unique threshold. Campuses that plant with more than 300 people see 3x the amount of evangelism and growth of churches that plant with less than 300 people. Click here for more information.
// The Staff. We're planning, budgeting, and raising up leaders to plant with a leadership staff large enough to pastor a quickly-growing campus as we believe God will move mightily upon planting. We plan to plant with the following full-time and part-time leadership staff upon launch...
Campus Pastor
Community Groups Director to oversee Community Groups and Assimilation
Kids Ministry Director
Student Ministries Director
Worship Gathering Director
// The Preaching. For preaching, we're planning to test-drive a hybrid model in which there would be live preaching from the Campus Pastor as well as high-quality video preaching from Pastor Josh and the preaching team in Spring Hill. We'll be honest: this is a surprising outcome as when our leadership team started the process of planning for multisite, any use of video preaching was off the table! However, as we began to wrestle with issues of church health and mission, and to listen with open hearts to people like John Piper, Matt Chandler, JD Greear and many others we trust who've used video preaching for the health of their multi-site churches, we slowly became convinced we should test-drive it for three primary reasons among others...
Unity of vision and culture. Gospel DOCTRINE saves, but a gospel CULTURE authenticates and warms people to the gospel doctrine. Despite what anyone thinks, those are the "secret sauces" of The Bridge –– gospel doctrine and gospel culture. Because so much of vision and culture organically arise out of preaching, this is a way to unify those things in both locations.
Home. When over 300 people go for the purpose of greater mission to plant our Columbia campus, we want every person that walks in to feel like they're coming home. A high level of unity in preaching greatly helps that happen.
Stewardship in two directions. On the one hand, we're called the steward the gifts God gives our church. For whatever reason, God is using the preaching ministry of The Bridge powerfully, and we want to steward that God-given gift through the use of high-quality video. In addition, this gives us a financial ability we wouldn't otherwise have to hire pastors to focus 100% of their time and energy on shepherding people, leading teams, and reaching the lost rather than 50% of their time being spent in sermon preparation.
// The Funding. We're already saving aggressively through our general budget, but we're also excited that 100% of our Gift for Christ offering this year will go out our doors toward this, The Bridge's first ever church plant! If you want to start giving to this work you can do that HERE and then selecting "Columbia Campus."
// The Location and Timeline. The specific timeline of the campus launch depends on finances, but we know a window. We like to say that it's the job of the leaders to set the vision, but the church sets how fast that vision gets accomplished through our giving. That said, we are saving aggressively right now and will be planting sometime between August 2017 and January '18. Our project development team is already scouting locations and have looked at storefronts in central areas of Columbia, schools, college auditoriums, etc.
WHAT YOU CAN DO
Pray. We increasingly see that God builds his church through the prayers of his people. Pray specifically for three things...
For God to bring us his Campus Pastor for Columbia.
For financial provision through the generosity of our church.
For the Spirit to be our John The Baptist, going ahead of us to Columbia to prepare hearts for the Lord.
Go. For ANYONE interested in the Columbia Campus, we have an interest meeting where we'll lay out more specifics on Sunday, November 13th. CLICK HERE if you have any interest in attending the Interest Meeting and potentially being a part of the Plant Team. We plan to send over 300 people on Day 1 to plant in Columbia –– not just the people who live in the Columbia area, but also people who may live in Spring Hill / Franklin but who are willing to say, "Here am I, send me!" and commit to being a part of the Columbia plant team for 1 year.
Give. While leaders set the vision, the church decides how fast the vision is accomplished through our giving. Ask God to show you how you might give at our Gift For Christ offering (Dec. 11th) to support the mission or CLICK HERE to begin giving to our Columbia Campus.
QUESTIONS
If you have any questions send them to our Campus Pastor, Matt Svoboda, at .